Birthday parties can run upwards of $500! Not in this house! We use our skills, the Internet and a little creativity to plan some great parties for our kids!
We have a two year old who is a huge fan of Doc McStuffins. Since the show was new at the time of her birthday, we couldn't find many paper products (we stuck with purple and pink solids and dots) to match the occasion. However, Disney Family Go has these adorable cupcake toppers! We printed them on cardstock at Staples (the colors come out great there!) and cut them out. We attached the figures with toothpicks. My older daughter and I then baked sugar cookies in the shape of small hearts. We frosted them in pink with pink sparkle sprinkles. The rest of the cupcakes were frosted with lilac frosting to complete the look of the Big Book Book of Boo Boos!
Be sure to look at the end of this post for fun ideas for Doc McStuffin favors! I have also included a link to Amazon at the end featuring some fun Doc Mcstuffin items that can be used to create a fun and affordable party for your little one!
**If you like what you see…please be sure to click the Facebook "like" button in the sidebar!**
The cupcake toppers came from the Disney Family site. This site has AMAZING resources. They only cost me $3 to print out on cardstock at the UPS store. You can also find Doc Mcstuffins Edible Image Cupcake Toppers
on Amazon or Etsy but they are a little pricier at $13 for 12 before shipping.
The hearts are sugar cookie cut outs with pink sugar sprinkles for the Doc glittery effect!
I then took the band-aids from the Disney Family Go site. I used these as markers for Pin the Band-Aid on Stuffy game. I wrote each child's name on the band-aids (which were printed on sticker paper but can also be printed on cardstock too!)
I then took a coloring page of Stuffy from the website The Suburban Mom and imported it into a painting and coloring program (Kidpix) to color it! You can also just use crayons of course! I had this enlarged for about $5.00 at Staples and printed out in color (WAY cheaper if you do it in black and white and then color it in!). I put contact paper over it for durability. You can also laminate it at a teaching store for less than $1. This became our gameboard for Pin the Band Aid on Stuffy! The kids had to pin the band-aid either on the tip of Stuffy's tail or the center of his belly! They played multiple times and loved it!
An inexpensive activity would also be to have the kids make their own Big Book of Boo Boos! All you need are the inexpensive purple spiral covered notebooks (or even paper stapled into a purple construction paper booklet). You can buy or trace hearts on cardstock and have the kids glitter them and glue them onto the cover of their notebooks! You can get inexpensive purple spiral notebooks during Back to School shopping…sometimes even for a penny!
Another fun activity might be to order these Doc Mcstuffins puzzle titles
that have 24 pieces and come in sets of 4. They are about $13.10 for 4 which isn't bad for a keepsake party game. You can split the kids up into teams and have them try to put the puzzles together. The team who gets it together first wins! Your child can then keep the puzzles to play with…BONUS!!!!
There is a really neat Doc McStuffins Floor Puzzle
that is about $15…a little pricey but can be taped for a temporary decoration that is colorful and impressive and then reused for playtime. I am a big fan of reusable party items!
You can also find free printable coloring pages for goodie bags or activities here!
There are many party extras at Disney Family Go such as invitations and thank you cards!
FAVORS!!!
There are some great ways to make favors without breaking your bank! First you can make kids' their own "doctor kits". You can add fun band-aids like the ones below (Latex-Free Kids Bandages/Bandaids- Multiple Colored 40 Count Full Size
) and you can even put on a heart-shaped sticker in the center to make them for McStuffins authentic! You can also include lollipops (an old-fashioned doctor favorite) and purchase sticker rolls
like the ones they give out at the doctor office. They run cheap! They are only about $4 for 100! They now even sell 75 Doc McStuffins Stickers
like the ones at the doctor's office but they are a little pricier.
If you have the time, you can print out the doctor's kits on Disney Family's site and include the pieces in the goodie bags!
You can also make band-aid and thermometer chocolate mold favors
!
If you have a budget of $3.50 a child for favors, then you may want to use these Zak Designs Doc McStuffins Melamine Bowls, Set of 6
which can serve double duty as favors and partyware! Parents love reusable favors!
Another fun favor are the new Doc McStuffins Golden Book
which can be pre-ordered and out in July for less than $3 a book! You can use these in centerpieces as well. You can find other Doc McStuffins titles
,they start at about $3.49 each.
There is also What Kids Want Doc McStuffins Jump Rope Sets, 12-Piece
which come in a pack of 12 for just $11.99!
I usually make my own decorations but I am a fan of this new banner that is selling on Amazon for under $8 and it is 3 feet long! It's just cute!
This site is not affiliated with Disney Family Go, Suburban Mom or Doc McStuffins. All information is for personal use only.
Does your little one want to look like the Doc? You can use a Doc McStuffins outfit for double duty! Use it for the party and for Halloween! There are some boutiques (such as Etsy sellers) that will sell you the complete outfit or a tutu outfit. Tutu outfits on Etsy range from between $28-$40 before shipping. The tutu outfits are really cute and can be personalized. I like the one from Pretty as A Princess. It can be personalized and starts at about $28. It takes 4-6 weeks to create and deliver.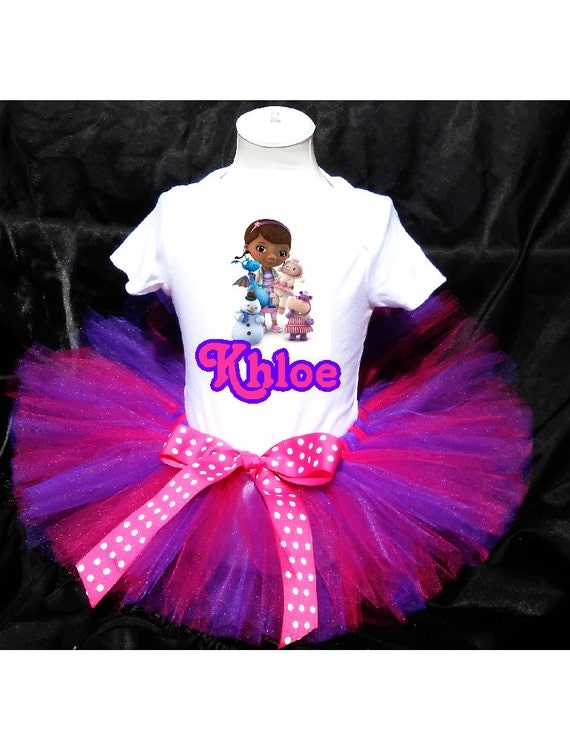 However, you could also make it yourself with a little clipart and word art from Microsoft Word. Print it out on t-shirt transfer paper and voila! That would probably run you closer to $20 after buying supplies and a tutu.
I am loving these new Doc McStuffins sneakers! The ones below and are from Payless (look for coupons) for $17.99. You can find them here!

There is another Doc McStuffins sneaker from KMart for $19.99. Check them out here!

The costumes are being sold for $80 on Etsy. WHAT?!!!
Want a lot of the accessories with the Doc Mcstuffins logo, lab coat and name badge? Then get this Doc McStuffins dress up kit for about $33.04 (price subject to change) from Amazon (includes shipping).
Ideas are the intellectual property of NJ Centsible Fun. You may share any ideas you find interesting just please link to this site as the original post. Thank you!